Hot Shot Memorial Still Under Review
The movie will be coming out this month to show all of us what it was like for the hot shots on that fatal day. In the meantime the town is still under review for their memorial.
The Daily Courier
Courthouse plaza Hotshot memorial plans still under review
Memorial Partnership reviewing proposals submitted by 29 artists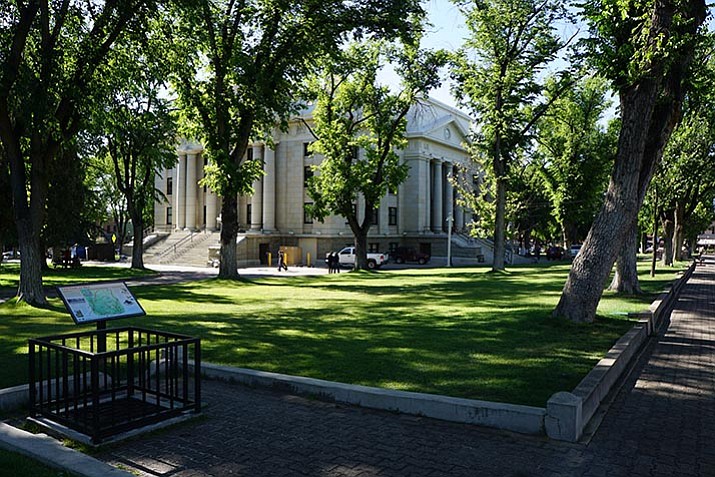 The proposed site for the Hotshot Memorial is along Cortez Street near the southeast corner of the courthouse plaza. (Cindy Barks/Courier)
Originally Published: October 16, 2017 6:01 a.m.
The Granite Mountain Hotshots Memorial Partnership continues to review the submissions for a memorial to the 19 Granite Mountain Hotshots who died on June 30, 2013, fighting the Yarnell Hill Fire.
In a news release this week, the partnership noted that its members are reviewing the proposals that were submitted by 29 artists this past June.
The memorial is to be located on the Yavapai County Courthouse Plaza, where the Yavapai County Supervisors approved 400 square feet on the southeast corner of the plaza in downtown Prescott.
"The Memorial Partnership has reviewed all proposals submitted and has begun the process of communicating with and interviewing artists for clarification and/or further review of submissions," the news release stated.
The release added: "No final determination has been made in regard to the memorial or the artists to be interviewed. The process requires extensive due diligence on the part of the Memorial Partnership. The Memorial Partnership will take appropriate action consistent with its vision."
The Granite Mountain Hotshots Memorial Partnership is an independent organization whose vision is to create a just and lasting memorial to the 19 members of the Granite Mountain Hotshots who died when the Yarnell Hill Fire they were battling overran them in the deadliest wildfire in Arizona history, according to the news release.
More information is available on Facebook at https://www.facebook.com/Granite-Mountain-Hotshots-Memorial-Partnership/, and on Twitter: https://twitter.com/GMHotshotsMem, @Granite Mountain19.
Author:
Amy Crawford
Phone:
928-287-5575
Dated:
October 16th 2017
Views:
9
About Amy: ...